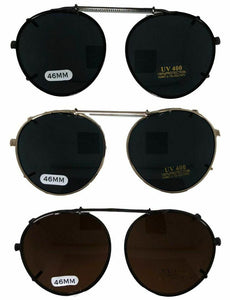 Easily grab these clip-ons and put them on your prescription glasses when you need sun protection.  The spring allows easy on and off, and looks better than other flip-ups and fit overs.  The hooks have little plastic sleeves over them so there is no wear to your glasses.  You can even fit a fingernail between the clip and the lens, so that it does not touch the lens either.  They are fairly stylish and lightweight.
The view is clear + nice to look out of, not all distorted like some other glasses.  
     * Shape -
Oval shapes - If you are looking for completely round clip-ons, like John Lennon round, there are no clip-ons that exact.  We usually fit the tear drop shape to our customers round glasses and they cover well and look good.  It is not exactly round though.
     * Lens - Get different lenses for different situations... All of our lenses have maximum protection of UV400.
Polarized
for true color tones while blocking the shiney reflections
                    HD Blue Block for a sharper image clarity by bringing out color contrast.  Amber brown lens color.

UV 400 only
is a darker lens for eyes sensitive to bright lights.
     * Strong Spring - Stays on, does not fall off.  Stretch clip out out to adjust to the frame of your glasses.
Tips:


1.  Look at the shapes and pick the shape that looks the most like your glasses.
2. 
Measure the width and height of one lens of your glasses.  When you pick an area to measure on the lens, pick the longest area.  For example, if you are measuring the length, than put the ruler where the length is the longest (usually in the middle of the lens).  This will insure your whole lens gets covered.  Make sure to include the eyeglass frame in your measurement.  We find it easiest to use a stick ruler instead of a tape, since it does not bend.

Measure your glasses in millimeters to find the best size for you.  If you are measuring in inches, than go to the internet, and put in the search bar:  x inches = mm. 
Then compare the size you came up with, to the sizes listed in this ebay listing.  Pick the closest match.  Slightly over is better than under, to ensure that it covers your lens.  If you have any questions, please email us and we will return your email promptly.

---
We Also Recommend
---