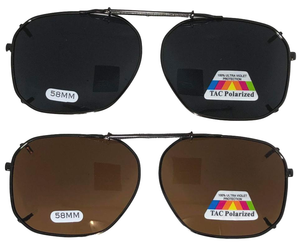 Large Frame Clip-On Sunglasses
Easily grab these clip-ons and put them on your prescription glasses when you need sun protection.  The spring allows easy on and off, and looks better than other flip-ups and fit overs.  They are fairly stylish and lightweight.
The view is clear + nice to look out of, not all distorted like some other glasses.  
Measurement in mm, including frame.
Navigator 58 = 58mm wide x 46mm high
Strong Spring - Stays on, does not fall off.  Stretch clip-on out to adjust to the frame of your glasses.
Measuring Tips:
Measure the width and height of one lens of your glasses.  When you pick an area to measure on the lens, pick the longest area.  For example, if you are measuring the length, than put the ruler where the length is the longest.  This will insure your whole lens gets covered.  Make sure to include the eyeglass frame in your measurement.
Your order will be packed and shipped same or next business day.  You will receive tracking/delivery confirmation info when your order is shipped.
---
We Also Recommend
---