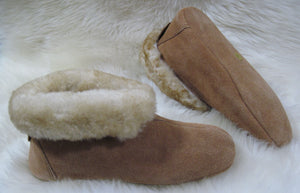 Booty Slipper - Leather Soft Sole - Stoney Fleece (Women's and Men's)
Wool Works Sheepskin Booty Slippers


with leather sole
100% Sheepskin Wool Fleece Lining - Premium Grade 'A' Australian Sheepskin.  Super soft and thick, lines the whole inside of the slipper.
Suede Leather Upper - Outside leather is made out of strong cows hide for water + stain resistance and durability.  Stands the test of time!
These are the favorite slippers that we carry in our sheepskin slipper line.  They are super comfortable and flexible but sturdy.  You can wear them with the cuff rolled up or down.  Rolled up looks nice and warms your ankles.  There is a tab in the back of the slipper to help you slip them on over your heel easily.  But after wear, you'll be able to just shimmy your foot in without reaching down.  They last a very long time, and the leather on the sole is a thick one, so it won't get punctured and your foot will be protected and cushioned.  I can't say enough about these slippers.  I Love them!  And customers rave about them.  This slipper comes in men's sizes too.  See our other ebay listings for all of our men's slippers.
Sizing Tip:
These slippers come in whole sizes only.  If you are inbetween sizes than roll up.  For example, if you are a size 9 1/2, than the size 10 would fit you.  If you are only a size 9 or 8 1/2, than a size 9 would fit you.
Fast Shipping
During normal business days, your order will be packed and ready to ship within 1-2 days.  You can expect to receive your order in about a week or earlier. You will receive tracking/delivery confirmation info when your order is shipped.
We opened our doors for business in 1998, with customers as the cornerstone of our business.  We appreciate your business and enjoy helping and serving with quality products and ethical strength.  We would Love to build a steadfast relationship with you.  Please let us know if you have any questions or special requests.  We will return your email within 24 hours.
---