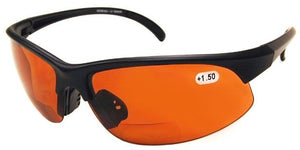 9489BBF Bifocal HD Blue Blocking Driving Lens Sunglasses
HD Copper Driving Lens Bi-Focal Sunglasses
BiFocal HD Sunglasses allow you to see the world like you haven't in years… or perhaps ever before! Whiter whites, richer colors, everything is crisp, clear, bright, and there is no glare. Plus discreet bifocal with no line lets you read the fine print without squinting or switching glasses. Become the master of the golf course and leave the reading glasses at home!
 Polycarbonite lens
Rubber lined for grip, no slip wear
Stylish sport wrap around lens
See in HD both near and far
High definition (HD) lens technology block the short blue light waves that cloud our vision in the bright sun.
See a range of colors you may have thought never existed!
Reduce strain on your eyes
The white golf ball will "pop" out of the green grass!
BiFocal at the perfect place means less fatigue
Great for driving, golfing, gardening, sports or other outdoor activities!
These HD copper-colored lenses don't just let you see the world clearly, they also completely protect your eyes 100% from UVA and UVB light. Don't risk damaging your eyes with sunglasses that don't have a UV 400 rating (like some of those other As Seen On TV HD sunglasses!)
And let's not forget about the coolest feature - a discreet bifocal lens that allows you to see what you are reading or writing! Avoid having the need to pull out your reading glasses, saving you the hassle or embarrassment. The injection molded inner bifocal makes it so there is almost no line across the amber lens!
One Size Fits (Almost) All!
Our BiFocal HD Sunglasses won't slip. They're sturdy, comfortable, and good for the small-to-average-size head.
Order today, ships immediately. Wear and say WOW!
---
We Also Recommend
---